Our story
To fully understand where we come from, this roadmap highlights all places that we have passed in our path to where we are right now with the Mechanics of Poker.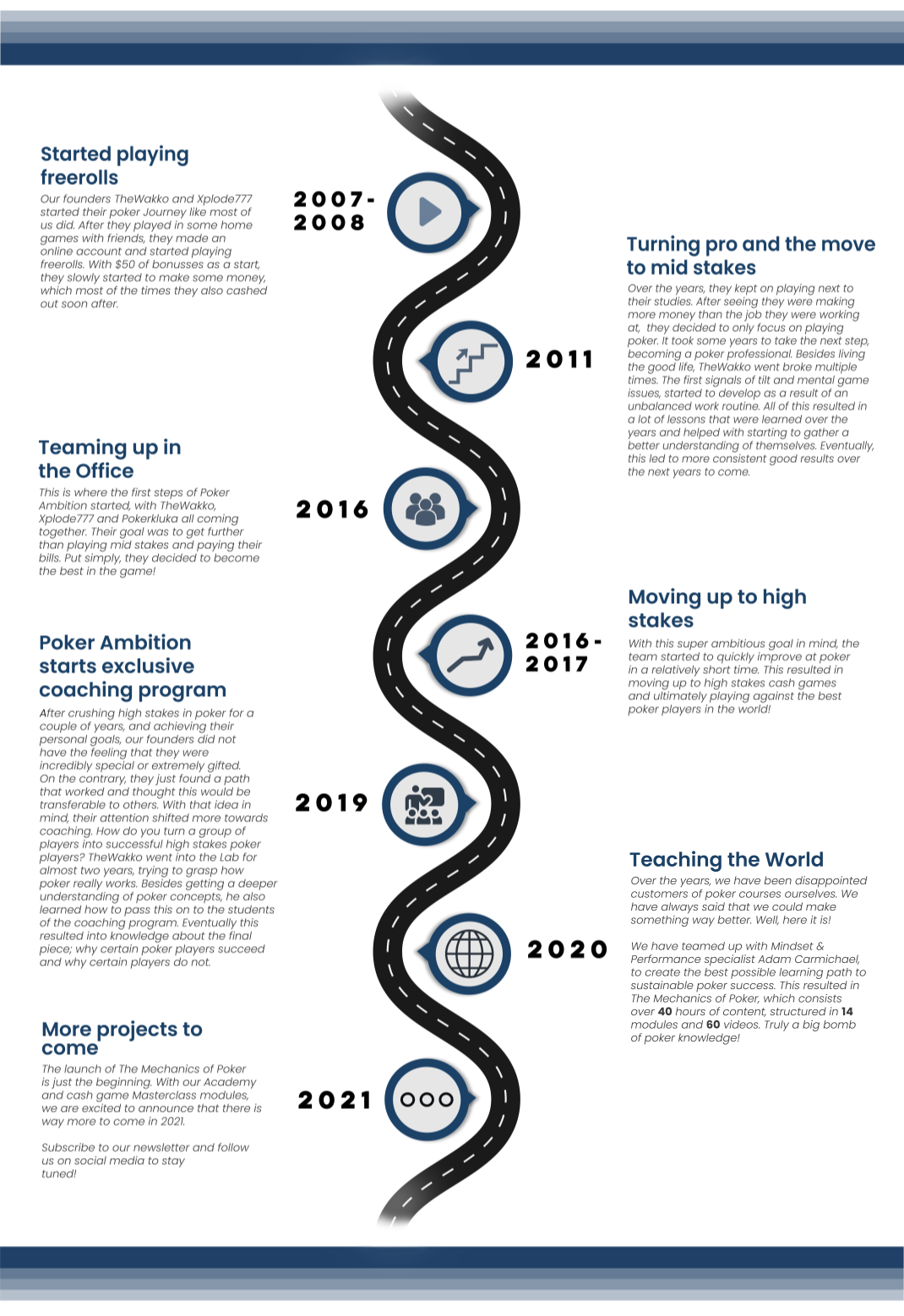 See the new program from
TheWakko & Adam Carmichael.
For over two years we provided high-end coaching services to a very exclusive group of professional poker players.
Now, we want to make our proven philosophy available to anyone who has the ambition to grow.
All concepts explained
On the contrary of telling you what to do in every spot, our philosophy is very much focused on why strategies are played in a certain way. Our coaches make sure that you thoroughly understand the concepts behind the theory, which eventually results in a long-lasting and successful poker career.
Complete package
Each of our team members have spent over 8 years working towards the top in poker, and after that 2 years of coaching in our program. During this journey, we found four areas that are extremely vital for success in poker: Technical, Mental game & Mindset, Performance, and soft skills. We teach all of them.
Clear learning path
Over the years, we have been disappointed customers of other poker materials ourselves. We believe that you need to have a clear learning path, in order to fully grasp all aspects that are needed to succeed in poker. Going through our syllabus, you can immediately see that it is setup way different than others. And that is exactly how we gained our success.
Proven success
If you look at the results of our team and members of the Poker Ambition Club, we have had success in both cash games and MTT's. To name a few players: TheWakko, Xplode777, Pokerkluka, BillLewinsky, Tinnoemulder, Teunuss, Kempii-7 and Floesoe. We have done it ourselves, taught others, learned a lot and put it all together. Now, it is time to teach the world!