NO MORE SPOTS AVAILABLE ATM :( GET NOTIFIED WHEN WE HAVE NEW OPENINGS
We'LL Open our doors again soon!
What's new in the 2.0 update
In the Mechanics of Poker 2.0 we show you how success in poker really works and how to get better consistently.
Our mission is to make sure you don't need us anymore after you've followed the program.
After all, the Mechanics of Poker is your one place to go!

New: Extra personal attention
Next to interacting with the coaches in our monthly live Q&A's, you will have a 1-1 coaching session with both TheWakko and Adam Carmichael, to take a deeper personal look into your game. Based on your data and reviewing your live play footage, we can see if you are implementing the knowledge correctly, and show you the most important parts of your game to work on.
Whole new section about managing and optimizing your career
In this section, we will show you how to continuously improve as a player all by yourself. How to find leaks in your game, which steps you need to take to resolve them, how to better recognize variance, and how to develop your own strategies step by step. Next to that, we will look at common mistakes players make, and all the factors that have an impact on the amount of money that you're going to win in your career, so you can identify where it is that you're still leaking.
Expansion of our current modules
The coaches keep on gaining new knowledge. With that, and your feedback, we have made existing modules more complete and added lots of goodness, including HUD use, MDA, and making exploitative game plans on your opponents. Based on future feedback from our community, we are sure there are many more updates to come, guaranteeing you will find the piece that you're missing in order to have more success in your career.
Bonus sections
We have a bonus section for the Technical part, which includes the bluffing and bluff catching system. On top of that we also have a bonus section for the Management & Optimization part, which includes data sheets and videos on how to filter your game more effectively.
New: Student reviews
We are giving the community pointers on their game, in all areas discussed, by reviewing their footage to prevent mis-implications of what we explained in the Mechanics of Poker.
Do you have what it takes to master the Mechanics of Poker?
1. Apply Now
Fill out the application process, which will only take around 6-7 minutes of your time. After that we will contact you via e-mail with further information. Keep an eye out for your inbox!

2. Get Selected
Based on the applications we receive each month, we will select a number of players who can join our program. If you are not selected, you'll still have a chance in the next month.
3. Start Program
Once you get selected, you are able to start with the Mechanics of Poker 2.0 program. Get ready, as we will show you the way how to break free from mid stakes!
Showing you how to break free
from the mid stakes trap
Without having the knowledge about the things you need to focus on, you will be lost on your way to the top.
And this is going to cost you...
YOU WILL LOSE A LOT OF VALUABLE TIME AND MONEY

you won't reach your full potential as poker player
you will lack motivation to continue achieving your goals
you have no idea what to do next and how to get better at the game
you will feel lost on your way to play higher stakes
you're creating more limiting beliefs that will only
Make things worse
Note that you are not alone. The truth is that most poker players struggle with rising up in stakes.
We also did, and that cost us a lot of time and money.

In our Mechanics of Poker 2.0 program we'll show you exactly how to break free from the mid stakes trap,
so you will finally start earning more respect, money and freedom.

There is no stagnation, you either go forward or backwards. And not taking action means you're going backwards.
Everyone is improving, and poker is getting harder and harder. Are you going to fall behind?

You don't want to stay stuck at mid stakes forever...
We help you reach your full potential
as poker player

In the Mechanics of Poker 2.0 program, you will learn all aspects that are needed to become a more successful poker player.
Get personal attention with our 1-1 coaching sessions, database reviews and live Q&A's.
Improve your Technical Game
The technical part of the program is structured around our vision and philosophy, along with exploitation, all poker concepts, GTO, and mass data analysis (MDA).

Build your Mindset & Performance
The mindset, mental game and performance part of the program rewires you for poker success. With your new mindset philosophy it will set you up to win!

Develop Management & Optimization skills
The management and optimization part focuses on all skills you need to get the most out of the technical knowledge. With grind optimization, strategy creation and a player tool box.

Technical game, management & soft skills
TheWakko
Ever since TheWakko, Xplode7777 and Pokerkluka started working together closely, their careers have skyrocketed. Together, they formed Poker Ambition. After achieving the desired success in their own poker careers, they decided to help other players through the coaching program. During this period of two years, they learned so much more about teaching poker, and what it takes to succeed. This resulted in TheWakko going into 'TheLab' and dedicated all his time to figure out what poker success comes down to. He transformed that into a philosophy, which he will be teaching you in the technical part and management & soft skills part of the Mechanics of Poker program.
Watch his full poker story
here
!
mental game & performance
Adam Carmichael
Adam Carmichael created the second part (Mindset & Performance), as he is our Mental Game & Performance coach. He is a former high stakes player who now coaches poker players how to reach their full potential. Over the past 3 years he has dedicated his life to working 1-1 with hundreds of players from 32 different countries, playing all formats from online MTTs to live high stakes cash games. His hands-on experience, coupled with his degree in Sports Science and his obsession with behavioral psychology, has led Adam to discover unique approaches which will turn you into the ultimate peak performer.
What is included?

The Mechanics of Poker 2.0 program is specifically designed
for people with great ambitions in poker.
All concepts explained
Our philosophy is very much focused on why strategies are played in a certain way.
80+ hours of content
In total we offer more than 80 hours of content, which we will continuously keep updating.
Complete guide to crushing poker
How much money you earn in your career is based on more than just understanding the game. That's why we explain you how success in poker works from all angles.
2 monthly live Q&A's
Each month we host one live Technical Q&A with TheWakko and one Mindset & Performance live Q&A with our coach Adam Carmichael.
Personal attention
We understand personal attention is important. That's why in the program, we now offer extra 1-1 coaching and database reviews.

Accountability
We keep you accountable with both our Q&As and our private community channels where you can ask questions to fellow students and to our coaches.
15 modules
We have lots of great content to show you, which has been fully structured in 15 modules, including all kind of work sheets.
100+ videos
You have over 100 videos to watch before you're fully equipped with the Mechanics of Poker.
The Mechanics of Poker is the best content of our former Poker Ambition CFP program.
But instead of having to make a long-term commitment (in CFP's, students often need to sign 2 year contracts) and giving away of part of your profits (on average our students paid $25,000 a year in profit cuts to get access to this knowledge) we got the program down to a one-time payment. This gives you lifetime access to the program which includes content to go through on your own pace, and stays interactive through monthly group calls and 1-1 coaching sessions.

Proven philosophy


With the Mechanics of Poker knowledge our former CFP students managed to go from breakeven/small winners to doubling their win rate's while moving up the stakes.
Winrate and stakes when students joined the CFP program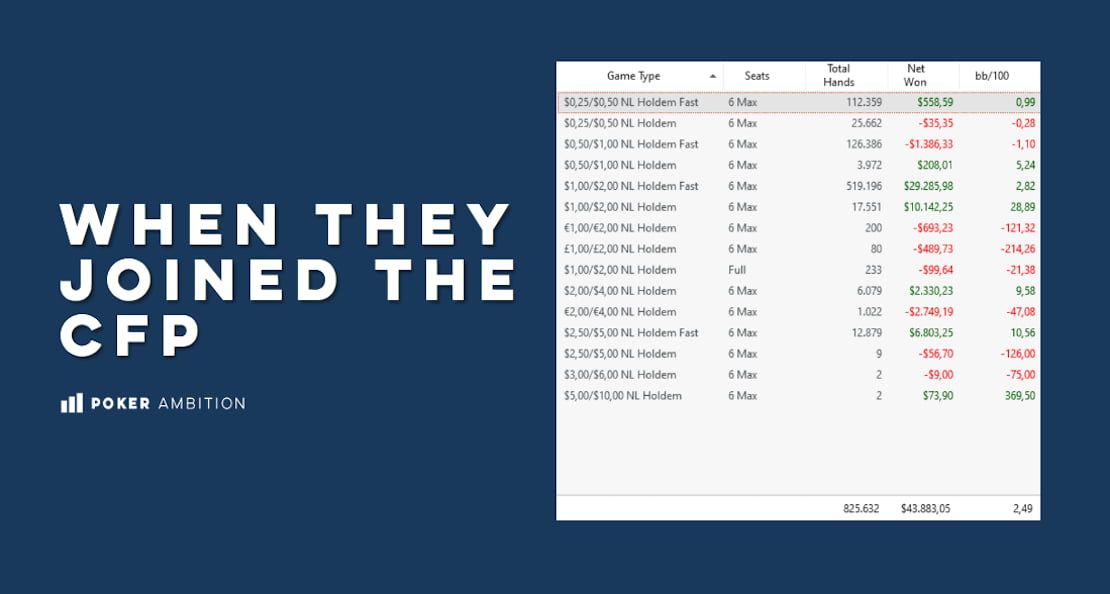 Winrate and stakes from our student's last 3 active months within the CFP program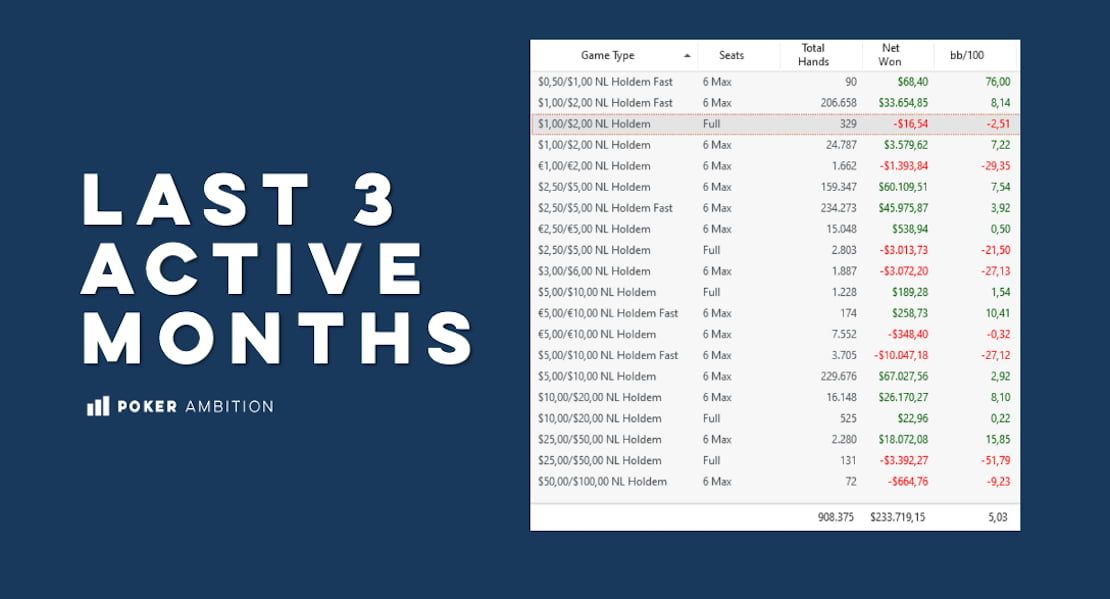 Watch our Mechanics of Poker Podcast
The #1 poker podcast on Youtube, Spotify and Apple Podcasts.
Learn more and get inspired by the poker professionals.
the mechanics of poker 2.0
Designed for poker players with great ambitions
With more than 60 satisfied members worldwide, the Mechanics of Poker is the most complete program for becoming a successful poker player.

Do you have what it takes to master the Mechanics of Poker?
9.2/10
Overall satisfaction score
99%
Completion rate on the Mechanics of Poker
60+
Satisfied members worldwide
What Mechanics Members are saying
After finishing my study, I wasn't sure what to do. Then TheWakko crossed my path and I decided to give it a try. Joining them has truly lifted my game to the next level. I started at 100nl and within 14 months, I moved up to the 1k level. The coaches teach you to understand poker, rather than learning tricks like most others do. If you're ambitious the Mechanics of Poker program is all you need.


Floesoe
Cash game and MTT player (1000NL+)
When I first came in contact with TheWakko, it was just exactly what my game needed. The structured and professional way they view poker helped me a lot to improve my own game. From playing cash games, I was able to transfer the conceptual poker approach and philosophy towards MTTs as well. I am certain everyone who would join the Mechanics of Poker would feel the same.


Tinnoemulder
High stakes MTT player
Before joining the program, I was on a GTO/exploitative exploration and really felt lost. When I got into the Mechanics of Poker, it all made sense and TheWakko proved that you can combine the best of both worlds. Now, I am confident on the baseline exploitative strategies that I implement. Being part of the exclusive Mechanics of Poker community really helped me along in my career.


Descartes
Cash game (500-1000NL)
Frequently asked questions
Why should I Join Poker Ambition and not some other training site?
Our proven philosophy is very much WHY focused, instead of being focused on WHAT. On the contrary of telling you what to do in every spot, we will explain why strategies are played in a certain way. Also, we deliver the total package to for your long-lasting poker career. We provide what you want and need to excel as a professional. That's why we included an entire Mindset & Performance part, and a Management & Optimization in our program. On top of that, we also have personal attention with our 1-1 coaching sessions, database reviews and live Q&A's.
Is it possible to enroll for the Mechanics of Poker program?
In order to enter the program, you need to apply and get selected. As we have a lot of personal attention in our program, we only have a limited number of spots available each month. Keep an eye out on our website and your email inbox to know when applications are open or closed.
Does the Mechanics of Poker also help live players?
Yes, 100%. What leads to strategies is the same for both live and online environments. The plays that you end up making might be different, because you often play against different type of players, deeper stacked on average, more OOP and MW pots, time raked. And, of course with more players at the table you can look at that give away information. However, these, and how success in poker works, are still all based on the same mechanics. This way you will learn poker at a deeper level, making your game more flexible and able to transit to both online and MTTs, if you would ever want to so.
Do you also offer coaching for MTT's?
In our program we teach conceptual based poker. We go deep into why we do what we do and what variables lead to a certain strategy. These are all universal concepts. However, the most common variables change per format that you play. This will lead to a different strategy, but we mainly focus on what factors lead to the change of strategy. Therefore, we will use various MTT and cash game examples to show these concepts in our Mechanics program.

Theory doesn't approach poker in an MTT or Cash way, and neither should we. So yes, we offer MTT, cash game, and SNG coaching. We coach you in having a deeper understanding of how poker works, which you can apply in any format. This will be sustainable for as long as poker exists, because how poker works will stay the same forever. Only how poker is played is constantly changing, and with our way of coaching, you will be able to change with it.
What kind of products and services do you offer?
Our main program is the Mechanics of Poker which is made by our head coach 'TheWakko' and Mindset & Performance coach Adam Carmichael. Additionally, we have our Masterclasses focusing on specific spots in poker. These are only exclusively available for members of our Mechanics of Poker program.
Lastly, we also have offer several webinar
bundles
.
Do you have what it takes to master the Mechanics of Poker?